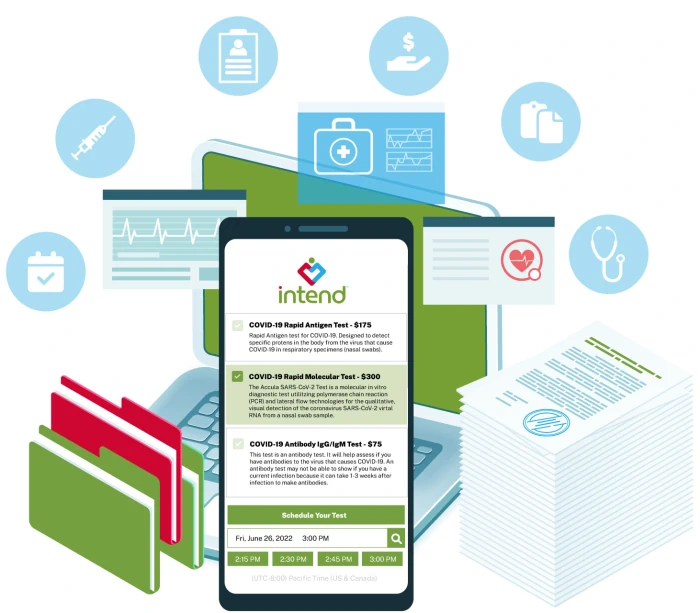 Intend

streamlines full-range patient management and engagement to maximize your business potential.


Eliminate the Paperwork



Stay in Touch



Increase Profits



Private & Secure (HIPAA Compliant)



Mobile Friendly



Flexible Integration



Online Appointments & Scheduling



Automated Reporting
Are you a Pharmacy?
Streamline your business for faster processing of billing and insurance claims.
Are you a Lab?
Use integrated software for automated lab work reporting.
Are you a Diagnostic Device Manufacturer?
Use Intend to automatically transmit diagnostic test results to patients and their medical providers.
Are you an Urgent Care?
Manage millions of transactions with proven enterprise software platform.
Are you a Physician?
Organize patient experience and management with a full range of web-based tools.
Are you a Pharmaceutical Company?
Use Intend to facilitate Patient Engagement during Clinical Trials.
Focus on Patient Engagement
Run your business and give patients convenient and personalized care.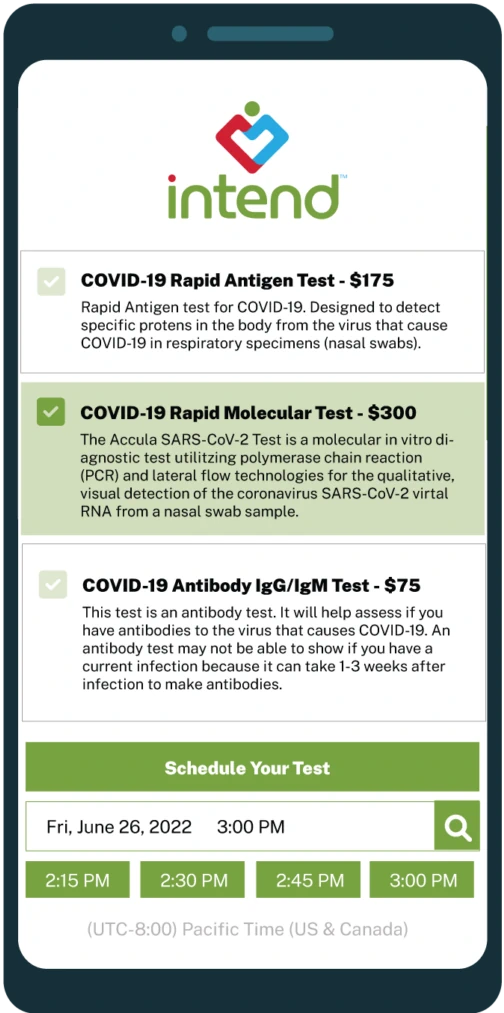 

Easy patient self-scheduling or scheduling by employee.



Lab result viewing, and securely sharing results with third party providers.



Management of relevant patient information such as patient-reported health information and insurance coverage.



Email, text, and chat for patient reminders and care follow-up.



Automated reporting for state reporting, registry integration, and claim processing exports.
Patient Management and Engagement at the Point-of-Care
What Our Clients Are Saying
Emergent Testing
Emergent Testing is a community initiative that aims to address the lack of access to Covid-19 testing in the US. As the world struggles to get a handle on the pandemic, we want to be a part of the solution. Our goal is to test as many people as possible to allow those who are affected to know their status and appropriate care for themselves and others. We are providing drive-thru testing using RT PCR Nasal Swab tests at all of our locations in the Atlanta and Houston areas.
Eurofins Scientific
With 50,000 employees and 800 laboratories, Eurofins Scientific is the world leader in food, environment, pharmaceutical and cosmetic products testing and in agroscience CRO services. It is also one of the global independent market leaders in testing and laboratory services for genomics, discovery pharmacology, forensics, advanced material sciences and for supporting clinical studies.
Elements Pharmacy
I am making more money by being able to handle more COVID and Flu testing, which is a good source of revenue for us. I also save thousands of dollars over other EHR companies because there are no fees for updates. It's the first application I've seen that addresses the full range of needs for COVID testing and immunizations, from appointment scheduling to intake to returning results in a shareable and secure format for organizations and for patients to have for themselves.
Mission Wellness Pharmacy
We did 888 vaccinations a couple of Mondays ago and only in 6 hours. The school was back from ski week and a lot of people needed testing so we used four swabbers that day. We normally use two swabbers at sites when we are there for about 500 tests. The ability of the software to integrate with the lab or other entities is a strong selling point. Your company is doing what we need in healthcare – which is to utilize efficient integration between labs and other entities.
Spotlight Medical
Eric has been an INCREDIBLE help to us getting started.  He is always available and solves every issue that arrises in incredible speed.  Your team and software are really something special and we feel so lucky to have found you guys. Things have been going well and we have actually been getting some of our work because we use Intend. Everyone loves the paperless solution.
Pucci's Pharmacy
We shared with CPESN that we are thrilled with Intend, Inc.  We are administering several hundred vaccines/day and hundreds of tests. Before Intend, Inc. we really struggled with paper and phone, it's an overwhelming task.