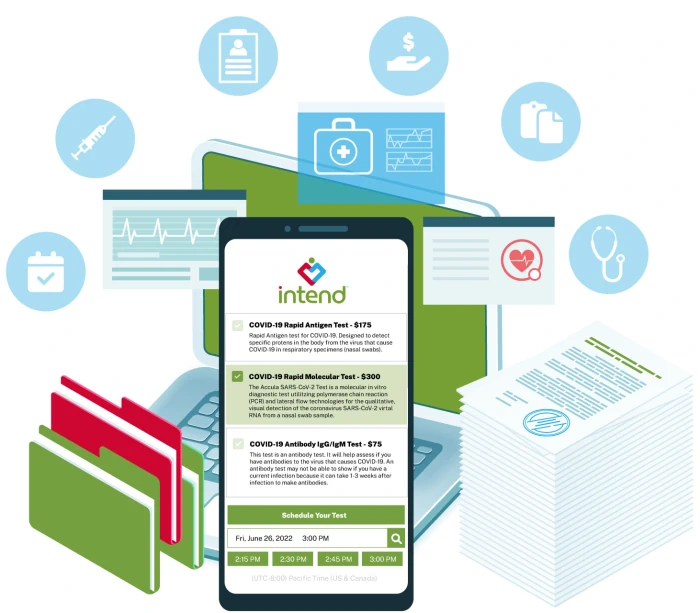 Intend

streamlines full-range patient management and engagement to maximize your business potential.


ePrescribing



Insurance Verification



Eliminate Paperwork



Stay in Touch



Increase Profits



Private & Secure (HIPAA Compliant)



Mobile Friendly



Flexible Integration



Online Appointments & Scheduling



Automated Reporting
Are you a Pharmacy?
Streamline your business for faster processing of billing and insurance claims.
Are you a Lab?
Use integrated software for automated lab work reporting.
Are you a Diagnostic Device Manufacturer?
Use Intend to automatically transmit diagnostic test results to patients and their medical providers.
Are you an Urgent Care?
Manage millions of transactions with proven enterprise software platform.
Are you a Physician?
Organize patient experience and management with a full range of web-based tools.
Are you a Pharmaceutical Company?
Use Intend to facilitate Patient Engagement during Clinical Trials.
Focus on Patient Engagement
Run your business and give patients convenient and personalized care.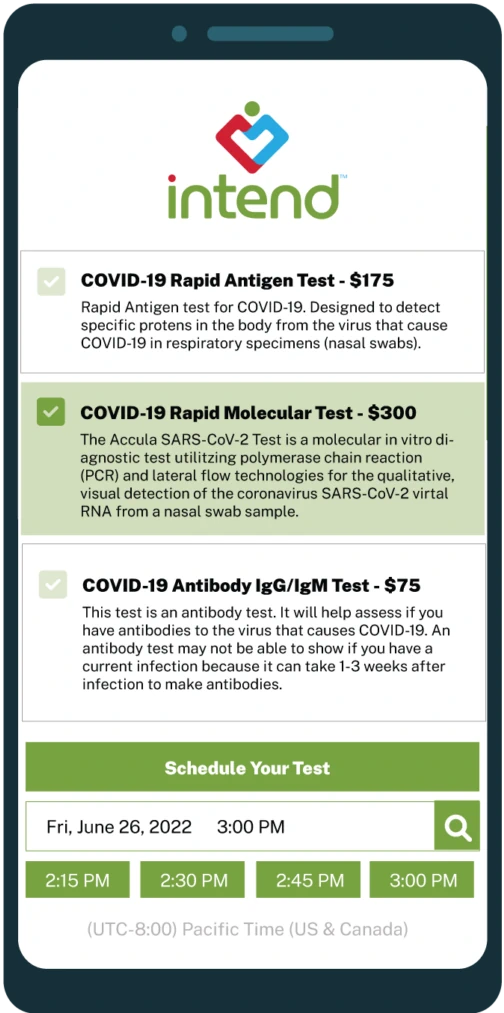 

ePrescribing with Integration with SureScripts



Automated Real-Time Insurance Verification



Easy patient self-scheduling or scheduling by employee.



Lab result viewing, and securely sharing results with third party providers.



Management of relevant patient information such as patient-reported health information and insurance coverage.



Email, text, and chat for patient reminders and care follow-up.



Automated reporting for state reporting, registry integration, and claim processing exports.
Patient Management and Engagement at the Point-of-Care
What Our Clients Are Saying
[rt-testimonial id="228820" title="Testimonials"]
What is Intend?

Intend is a web based software platform designed for healthcare providers to streamline patient relationship management, scheduling, intake, insurance verification, billing, lab integration, follow-up, state and federal reporting.
Can Intend integrate with other pharmacy or practice management?
Intend integrates with various healthcare systems with lab, and billing software. HL7 messaging, CSV, and API integrations natively supported.
Does intend provide County, State, and Federal reporting?
Intend provides extensive reporting capabilities. Most federal, state, and county reporting formats are supported. Over 5 million lab test results & vaccines have been administered and reported since founding.
Can intend be hosted on my domain and use custom company branding?
Intend can be 'white labeled' as customized to fit your website, online branding, and web domain.
Does intend provide insurance verification?
Intend provides real-time insurance verification. Customers can provide photos of their insurance card or policy numbers can be manually entered.
Does Intend provide billing services?
Intend can directly process credit/debit payments as well as integrate with other payer and insurance billing systems.
Can Dr's prescribe medications via Intend?
With a valid NPI and licensing requirements, providers can prescribe medications directly from the Intend application.